The Vehicles You Need, The Financing You want!
We hear it everyday, inventory levels are low, prices are high and fulfilling your fleet vehicle needs is a huge stressor. With Matt and NCL Government Capital, we can alleviate your headaches and solve your budgetary constraints with a streamlined solution.
At NCL, we hold the exclusively awarded Sourcewell contract for financing. This provides you with a funding solution that not only satisfies bid requirements but when paired with the contract being used to purchase your fleet, it creates a turnkey solution that not only saves time, but also saves you and your community money.
NCL Government Capital has over 20 years of experience providing competitively-bid financing to governments. Matt also brings strong dealer partnerships and automotive expertise to help source hard to find vehicles and upfits.
Sourcewell – Expediting Steps of the Public Procurement Process for Fleet Vehicles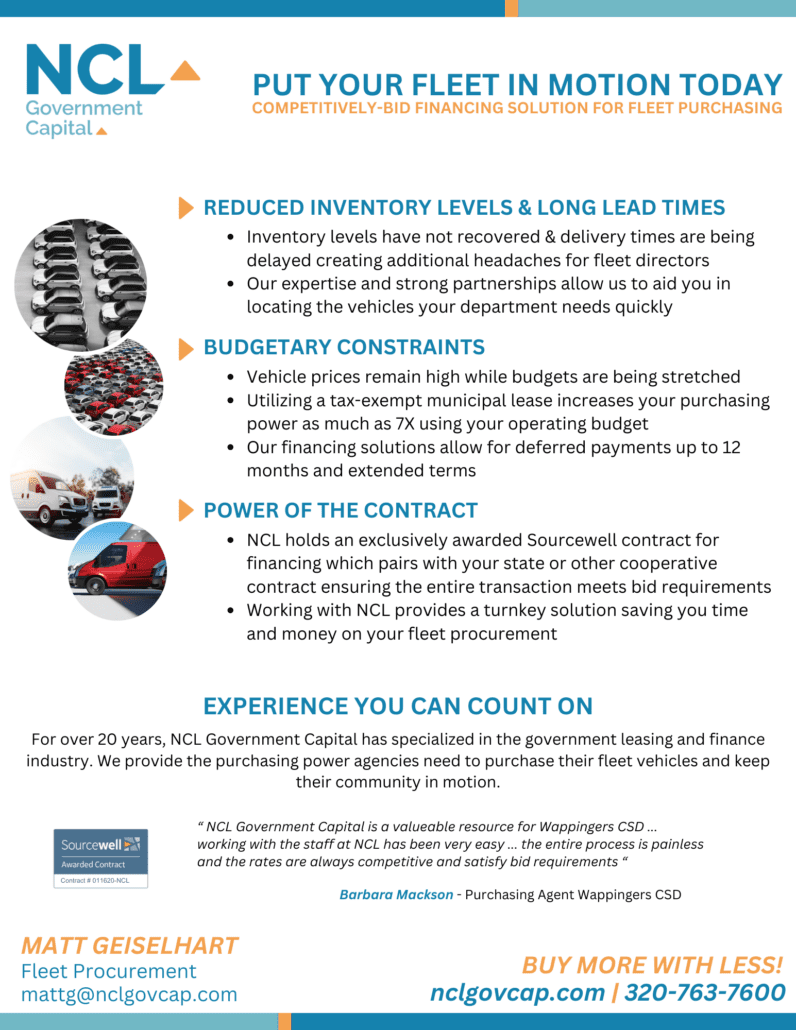 Download NCL Fleet Procurement Flyer!
We Provide Solutions that:
Increase your departments purchasing power as much as 7X
Satisfy competitive bid requirements with our exclusively awarded Sourcewell contract for financing
Allow you to purchase the equipment you need today and pay later with deferred payments and zero down
Allow you to pull from your existing operating budget while utilizing financing that includes non-appropriation language built in with a tax-exempt municipal lease
Allows you to maintain a healthy cash flow for your department
Can locate the vehicles you need to equip your fleet
Read about the recent challenges | Navigating the Challenges of Fleet Management: Insights from Industry Leaders
Contact Matt today to simplify your fleet procurement!